Dental Implants – Fort Worth, TX
The Next Best Thing to Natural Teeth
If you're looking for a more permanent and stronger solution to replace your missing teeth, dental implants in Fort Worth, TX may be just what you've been looking for. Instead of receiving a restoration that either anchors to your existing teeth and compromises their structure or just restores the biting surface of your teeth, dental implants are able to repair the entire tooth, including the roots. This allows them to offer a wide variety of unique benefits that patients can't get with traditional dentures or bridges. To learn whether you're a good candidate for this procedure, schedule a consultation with Dr. Neil today.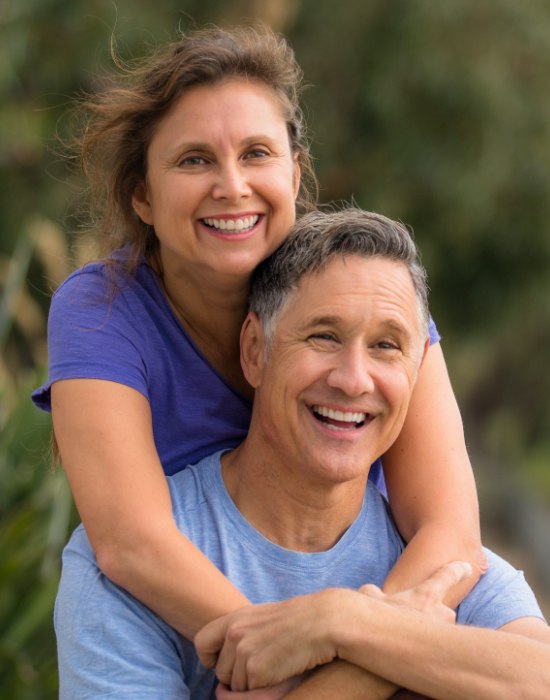 Why Choose Karen Neil Fort Worth Dentistry for Dental Implants?
Experienced, SPEAR-Educated Dentist
Permanently Replace Any Number of Missing Teeth
Additional Flexible Financing Available
What are Dental Implants?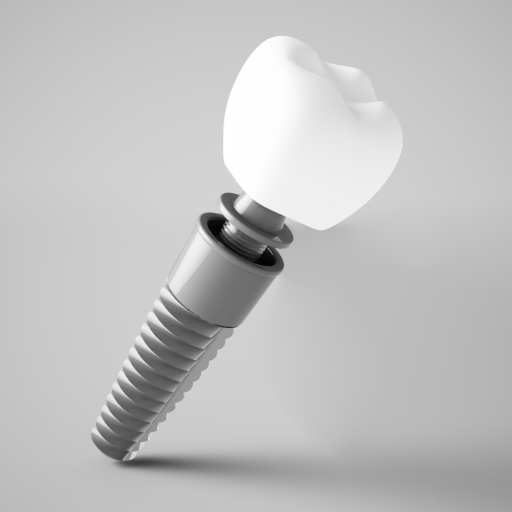 Dental implants themselves are small, titanium posts that are surgically placed below the gumline and into the jawbone to secure a dental crown, bridge, or denture in place. Due to the fact that they're biocompatible, they're able to naturally fuse with the jawbone to provide it with necessary blood flow and stimulation to keep it from deteriorating over time. This also provides restorations with an unwavering foundation to be attached to.
The 4 Step Dental Implant Process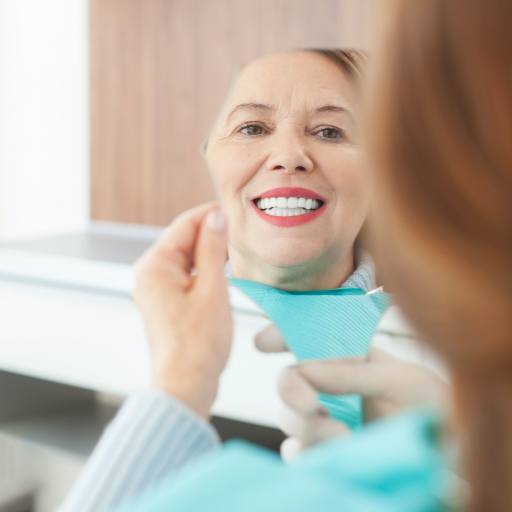 The process for replacing teeth with dental implants is more complex and involves more steps than what you might experience with traditional bridges and dentures. In fact, the entire process can take several months to complete. While that might seem like a long time, the end result is well worth it! What can you expect during your journey to a restored smile? Typically, patients go through four main stages of treatment: the initial consultation, dental implant placement surgery, osseointegration, and placement of the final restoration.
Initial Dental Implant Consultation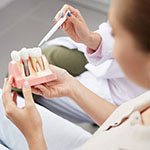 During your initial consultation, Dr. Neil will examine your mouth to determine whether dental implants are a good for fit you. She will also consider your medical history, medications, and other relevant information.
She might determine that you can move forward with implants right away. Alternatively, she could recommend that you undergo some preliminary treatments, such as a bone graft or gum disease therapy, to prepare your mouth to support your new teeth.
Feel free to ask questions during your consultation. We want all of our patients to be well-informed before they commit to anything!
Dental Implant Surgery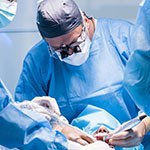 Dr. Neil partners with local specialists for this part of the dental implant process. This ensures that you get the best-quality care during every stage of your treatment.
The specialist will perform a minimally invasive surgery, wherein small incisions will be made in your gums, and your prosthetic tooth roots will be carefully inserted into your jawbone. The incisions will be closed, and then you can begin the healing process.
You will be numbed during the surgery, so you should feel little to nothing. It is also possible that you will be sedated. The doctor who performs your procedure will do everything they can to ensure your comfort!
Dental Implant Osseointegration & Abutment Placement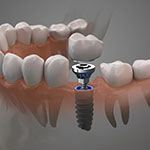 Once the implants are in the jawbone, osseointegration can begin. Osseointegration is a natural biological process through which the bone fuses with the implants. It allows the implants to become stable in the body so they can provide the strongest base of support possible for your new teeth.
Adequate osseointegration may take a few months. Thereafter, you may undergo a second minor surgery. Your implants will be exposed, and healing caps will be placed on them. Later, the healing caps will be replaced with abutments. Abutments are small connector pieces that will keep your new teeth in place.
Delivery of Dental Implant Restorations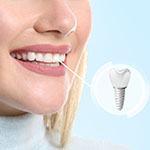 After your abutments are in place, Dr. Neil will once again take charge of your treatment. She will take impressions of your mouth and use those as the basis for designing your beautiful new crown, bridge, or denture. After a laboratory fabricates the restoration, our team will secure it in your mouth and ensure that it fits perfectly and looks amazing. We will also analyze your bite to make sure it is both comfortable and functional.
You will be able to start using your new teeth right away, though it may be wise to start with soft foods while you adjust to your new prosthetic.
Benefits of Dental Implants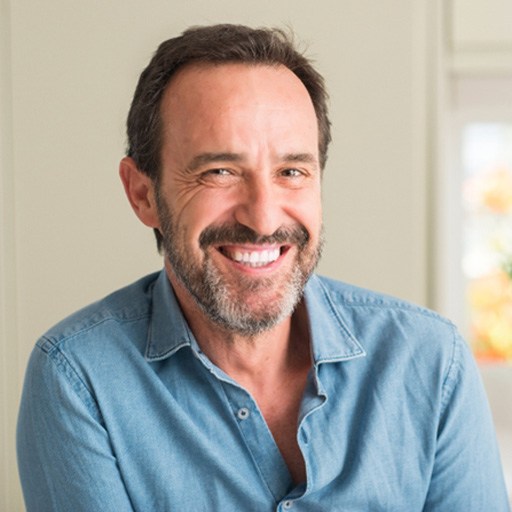 Dental implants in Fort Worth are a popular solution for patients who face tooth loss because of the numerous benefits they offer, both in day-to-day life and long-term health. While they're known for being the top-tier choice for replacing missing teeth, they're absolutely priceless considering the life-changing impact they have on countless patients. We invite you to learn about the variety of benefits of dental implants by reading below.
Day-to-Day Benefits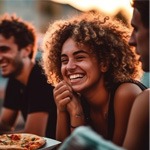 • Easy to Maintain: Your implant restorations are incredibly easy to maintain—you won't have to worry about taking your replacement teeth out to clean them, storing them in protective cases, or any other inconvenient changes to your daily routine. Simply brush twice a day, floss daily, and visit visit your dentist for your bi-annual checkups and cleanings like you normally would!
Health Benefits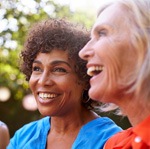 Preservation of Jawbone & Facial Structure: Dental implants replace not only the visible crown of your teeth, but also the roots that are located below the gumline. They fuse with the bone through a process called osseointegration, which prevents jawbone erosion and allows you to maintain your facial appearance.
Improved Overall Health: Tooth loss is correlated with an increased risk of additional oral and overall health problems, including tartar accumulation, gum disease, cardiovascular issues, and more. By restoring your smile, you can improve not just your oral health, but also your overall well-being.
Minimally Invasive to Surrounding Teeth: Unlike traditional bridges and partial dentures that require the use of your natural, healthy teeth to stay securely in place, dental implants require no alteration or support from surrounding teeth.
Long-Term Benefits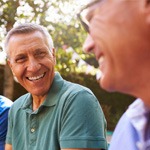 The primary long-term advantage of choosing dental implants, in addition to all of the ones listed above, is the fact that with proper maintenance, your implants can last for 35 or more years. That means you'll spend less time at your dentist's office and more time enjoying your new grin!
Who Can Dental Implants Help?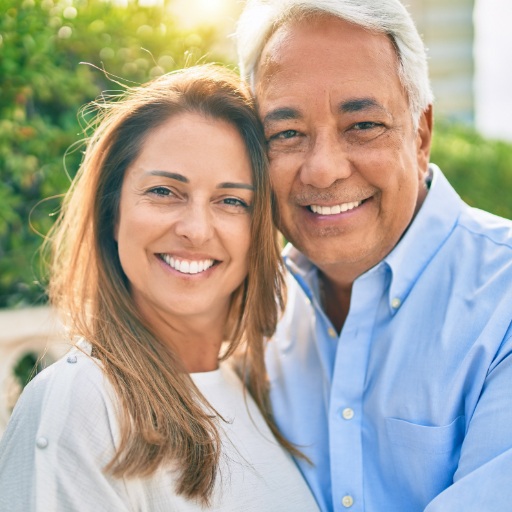 The best way to learn whether you're a good candidate for dental implants is to visit our dental office for a consultation with Dr. Neil. Once we determine how many dental implants you need to have placed and what type of restoration you require, we'll be able to walk you through what you can expect on your journey towards a complete and functional smile.
Missing Single Tooth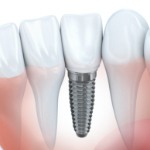 For a single missing tooth, we can place one dental implant in the space between your teeth below the gumline. Once it has fused with the jawbone and the abutment has been secured to it, we can attach a customized dental crown to fill the gap.
Missing Multiple Teeth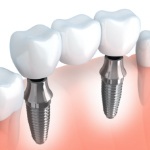 Instead of needing to alter your existing natural teeth to secure a dental bridge, we can place two dental implants on either side of the gap in your smile. These will hold a bridge in place without any alteration of your teeth required.
Missing All Teeth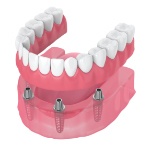 For a more stable and secure way to replace an entire arch of teeth, we can secure a denture to anywhere from four to eight dental implants that are strategically located along your arch. This will prevent any slipping or shifting occurring.
Understanding the Cost of Dental Implants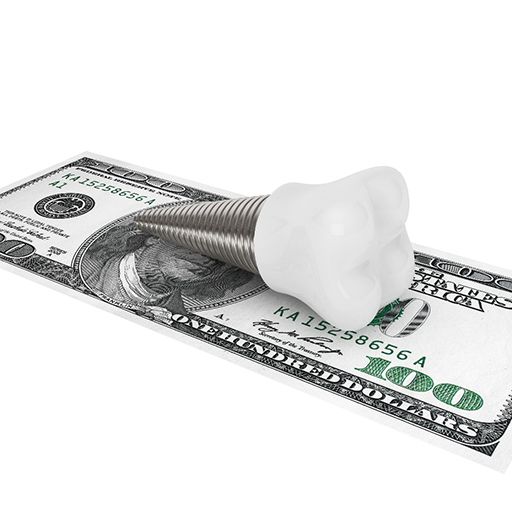 Dental implants offer lifelike, long-lasting results, and these effective smile restorations require patients to make a larger investment of time and money upfront than other solutions. Since no two treatment plans are exactly alike, our team at Fort Worth Dentistry will walk you through every step and the price associated with each before we begin restoring your smile. With this in mind, keep reading to learn some of the factors that influence the cost of dental implants in Fort Worth, and contact our team with any further questions.
Preliminary Treatments & Dental Implant Surgery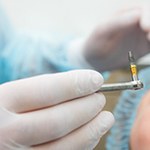 If you have existing oral health problems, you'll likely need preliminary treatments before moving forward with the dental implant process. Even though services like gum disease therapy, tooth extractions, and bone grafting will add to the overall cost of your treatment, depending on your case they can be necessary to maximize the lifespan of your new smile. Fortunately, most of them are partially covered by dental insurance.
Keep in mind that dental implant surgery has a cost of its own. We are partnered with the best local oral surgeons who specialize in implant placement, so you can rest assured that you are investing in what will be a quality result for your smile.
The Parts of Your Dental Implant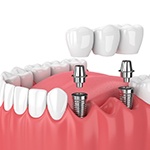 When it comes to dental implants in Fort Worth, the cost is affected by multiple factors including:
Material – Implants made of zirconia instead of titanium typically cost less.
Brand – Manufacturers make dental implants differently based on the needs of each patient. Be sure to ask your implant dentist where you're getting yours from as well as any brand-specific benefits.
Number of Dental Implants – Obviously, replacing a single missing tooth with one dental implant will cost less than replacing an entire row with an implant denture.
Type of Restoration – Crowns, bridges, and dentures each cost different amounts. Expense corresponds to the size of the restoration.
How Dental Implants Can Save You Money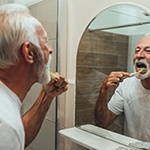 Patients on a budget often choose dentures or dental bridges as their method of tooth replacement because they're cost-effective. Even though dental implants have a higher upfront cost, they end up paying for themselves over time. For example, you won't need to spend on replacements or adjustments every few years.
You also don't have to worry about purchasing special pastes, solutions, or other products to maintain your rebuilt grin. All you must do is care for your implants like you would for your natural teeth! Since they're easier to maintain, you can more easily avoid oral health issues that would require costly dental treatment.
Does My Dental Insurance Cover Dental Implants?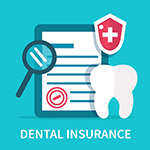 Most dental insurance plans do not offer coverage for dental implants. However, there are some exceptions. Certain parts of the final restoration or your preliminary treatments might be eligible for coverage. Before committing to anything, contact your insurance provider to confirm the details of your coverage. Our team is happy to help with that step if needed!
Making Dental Implants Affordable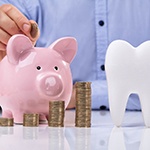 Don't have dental insurance? No problem! We work with third-party financiers to help make your dental bills much easier to manage. With CareCredit, you can sign up for low-to-no-interest payment plans to break up the overall cost of your treatment into smaller monthly installments.
Also, we offer a free dental implant consultation so you can learn more about this smile solution and whether it's right for you! Contact our team to schedule your visit with an implant dentist in Fort Worth today.
Dental Implant FAQs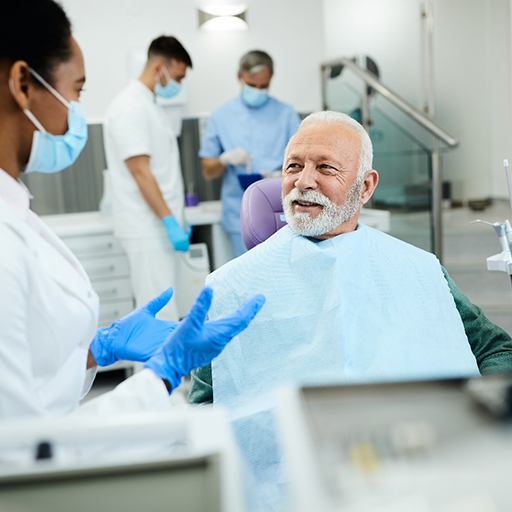 If you suffer from extensive tooth loss, you may be thinking about rebuilding your smile with dental implants in Fort Worth. You can review the information above to determine whether this method of tooth replacement is right for you. However, it's completely normal to have a few concerns about the process before committing to it. To help you, our team at Fort Worth Dentistry has decided to answer some frequently asked questions from patients.
How Long Do Dental Implants Last?
Dental implants are one of the most permanent solutions for missing teeth, capable of lasting well over 30 years. Of course, their exact lifespan depends heavily on your oral health and lifestyle. You can help your upgraded smile's durability by brushing twice a day along with daily flossing and rinsing with an ADA-approved mouthwash. Make sure you visit Dr. Neil every six months for a checkup and cleaning as well!
Does Getting Dental Implants Hurt?
Before the procedure begins, we will numb your mouth with a local anesthetic to ensure you're completely comfortable. You'll also most likely be sedated during your surgery which means your body's ability to register pain will be much lower. For the first few days following dental implant placement, your mouth may feel sore and irritated. Fortunately, you can easily manage your discomfort by taking over-the-counter pain medication and using cold compresses.
How Long Does It Take to Recover from Dental Implant Surgery?
Most patients can return to their usual activities the day after surgery. However, it's incredibly important you avoid strenuous exercise for the first 1-2 weeks as it can hinder the healing process. Although you can expect some bleeding and swelling after your procedure, it should stop within 3-4 days. While you recover, make sure you take your prescribed or over-the-counter pain medication as directed. It's worth noting you may need up to six months for the implants to fuse with your jawbone via osseointegration.
Will People Be Able to Tell That I Have Dental Implants?
Your restorations are going to be personalized for your smile because your implant dentist in Fort Worth takes impressions of your mouth to create them. Once they are placed, people shouldn't be able to tell the difference between them and your natural teeth. The implants are secured in your jaw like tooth roots, so you won't need to hold your jaw in an awkward way to keep them in place as you might with poorly fitting dentures. The combination of natural appearance and secure fit is unmatched!